Executives & Business Owners
Your Personal CFO
Consolidate, Simplify & Strengthen your financial life
North Star is dedicated to helping your career and businesses grow and succeed. We can assist with the selection, the setup, and the maintenance of your company's benefits, which may include retirement plans, health insurance, life insurance, tax and estate planning. Companies who provide a majority of these benefits, can retain their most important asset, their employees.
Overview
We can help break down the business planning process into the following steps: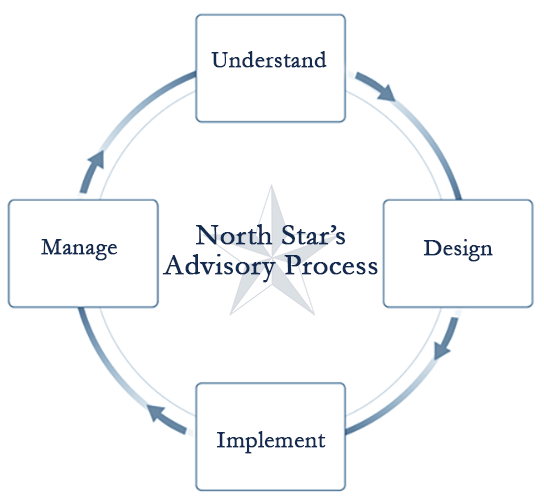 Services
Succession and transition planning
Business Valuation
Strategic business planning
Retirement plan design and funding
Employee Benefit Planning
Comprehensive financial planning
Investment management, Portfolio review, & Risk assessment
Retirement analysis
Cash Flow Projections
College planning & education funding
Tax planning & Tax-efficient withdrawal strategies
Insurance & estate planning review
Family legacy, Intergenerational wealth transfer, & charitable planning
401K/403b/457 investment & funding analysis
Evaluating pension options
Employee benefits review
Rental Real Estate Evaluations
Planning through life transitions
Divorce Planning
Compensation benefits & packages analysis
Incentive & deferred comp consulting
Stock option planning
Understanding your business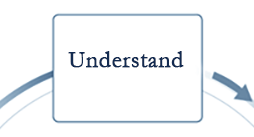 North Star begins by getting to know you and your company while gathering information about your current circumstances, future goals, concerns and aspirations. During this phase, North Star can also discuss the strategies and services available to help solve the specific financial challenges facing your company.
Step 1: Establishing a relationship
At North Star, we feel that establishing a good relationship with the business owner is key to helping and understanding the needs of the business. We establish this relationship by:
Meeting to find out how your business operates and functions on daily basis.
Discussing who your employees are and what is important to them.
Identifying key employees.
Laying out the needs, experiences and expectations for the services North Star can provide.
Step 2: Gathering information
After we have established our relationship, we will gather some information about the company and employees by:
Filling out a questionnaire about the areas of need, like retirement and health care.
Have employees fill out questionnaires about what benefits they would like.
Reviewing any current plans that you have in place.
Preparing a summary of our findings.
Designing your plan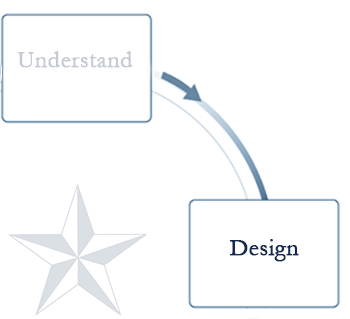 Depending on your circumstances, your plan may focus on a single objective or a more complex strategy.
Your plan may include, but is not limited to: cash management, setting up a retirement plan, purchasing or selling businesses, key man insurance and buy/sell agreements.
Step 1: Review Scopes of Services
After we have gathered information, the next step is to review and establish what services you would like North Star to provide. We will start to design a plan to fit your needs by:
Identifying the services you would like North Star to provide.
Defining and documenting the roles and responsibilities of various people depending on services provided.
Establishing what service providers will be required for the solutions you choose. Examples could be the Third Party Administrator (TPA) for a 401(k) plan.
Creating a timeline for implementation.
Step 2: Analyze and evaluate needs
Once we have identified what services we will provide, we will analyze your exact needs as they relate to those services. We will make specific recommendations by:
Analyzing the different solutions that are available.
Evaluating those different solutions based on your needs.
Providing you with specific proposals on the different options.
Reviewing the pros and cons of each option with you.
Step 3: Choosing the right plan
After looking through the pros and cons of each option, the next step is to choose the plan that best fits your needs by:
Establishing which solution you want to implement.
Decide what third-party providers will be necessary to implement the plan.
If there is a choice in third-party providers, determining which one will provide you with the service that you need.
Finalizing selection of provider.
Finalizing selection of the right product if applicable.
Implementing your plan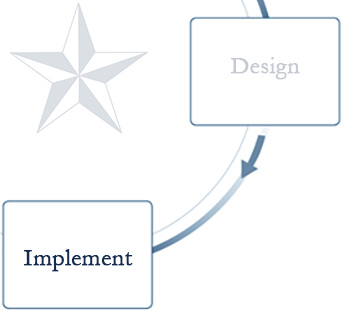 In this phase, the planning is put into motion while collaborating with other relevant professionals as needed – which may include your attorney or CPA.
Step 1: Initiate plan with provider
Execute all contracts and agreements
Deliver signed contracts to all service providers
Build Plan Sponsor Document, if necessary
Ensure client has received prospectuses, research reports and required disclosures
Create a conversion process and build a schedule of events if applicable
Step 2: Employee education and enrollment
Help employees complete plan enrollment forms
Deliver enrollment and educational materials
Hold initial education and/or enrollment meetings for participants
Schedule the periodic ongoing education and/or enrollment meetings
Step 3: Plan sponsor education and service provider coordination
Coordinate with all service provider professionals and the plan sponsor to ensure the plan sponsors understands the company's obligations
Educate the employer on how to meet these obligations
Educate employer on the tools available to manage the plan
Managing your plan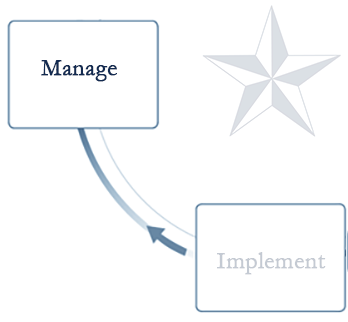 As your company evolves over time, it may become necessary to adjust or enhance the particular components of your plan.
Step 1: Plan management
Create a consistent schedule for monitoring plan performance.
Build quarterly reports if necessary.
Use available tools to manage the plan.
Review any company changes, like employee demographics.
Step 2: Education management
Conduct education meetings with the appropriate frequency and settings based on the participant education policy.
Review the relevancy of the education policy with respect to employee demographics, asset allocation and performance results.
Confirm revised goals in writing and document in Plan Sponsor Document.
Step 3: Progression management
As decision-makers and trustees move onto other positions, the advisor should work with the plan sponsor to define the roles and responsibilities of the new personnel.
Provide the plan sponsor with regulatory updates.
Provide periodic reviews to discuss the success of the plan.
Document review meetings in writing.
Step 4: Products and Service Management
The advisor should consult with the current provider on an annual basis for information regarding new products and services, and pricing.
The plan should be taken out to bid every three years.
Why North Star Advisory Group
There's something more powerful than luck or coincidence to help bring financial independence within reach – planning.
As professionals dedicated to continuing education and a high standard of ethics, we leave nothing to chance. We coordinate with other trusted professionals to ensure seamless management of your assets with services that range from portfolio management, insurance, tax, estate, retirement planning and beyond.
The result is a unique plan that has the underpinnings of knowledge required to carry it forward, a plan that is thoroughly researched and vetted, yet flexible and responsive to life's many transitions.